A roller-coaster ride through the expectations and realities of pandemic university

Reflecting on the expectations versus the reality of time at university.
Despite being anxiety-inducing, lectures, lecture halls, huge hallways full of students, clubs, and meeting new people are pillars of the university experience. I always dreamt of having the stereotypical university experience that everyone is acquainted with; being involved in clubs and varsity teams, meeting new people, and touring the campus and its beautiful landscape every day. Getting accepted into UTM was a huge step in that direction for me. I was excited to finally get a taste of what I thought I wanted so badly, but then, the pandemic hit.
Times of uncertainty were upon us, and the world was changing faster than we knew it. One of the biggest changes was online school. Initially, it was bittersweet knowing that my first year of university would be held online. I was disappointed that I would not be able to have the experience I had always dreamt of. However, I was also relieved that I wouldn't have to make a full transition into a new world I knew nothing about.
For me, online school was an amazing experience. Sure, there were no varsity sports or strolls down beautiful nature paths on campus, but I loved it anyway. I never once thought that university would consist of online meetings and video streams for lectures and tutorials, and that students would interact with each other and professors through a chat function.
I absolutely never thought that my university experience would coincide with a global pandemic, leaving me entirely isolated. It was strange to attend class alone in my bedroom, learning from professors through a screen. I had always found professors to be intimidating, especially after listening to countless stories from other university students. However, the online setting really allowed for students and professors to connect on a different level, showing that professors are not that different from us after all, making it much easier to approach and talk to them.
We all struggled with technological issues during lectures and found humour in the frustrating situations that came along with learning online, but it was amazing to bond with people I thought I would be completely alienated from in this virtual learning setting.
At the end of the day, my university story has been a roller coaster, much like it has been most of us. The ups and downs of university life, whether anticipated or not, are really what makes this experience unique. What I really learned is that change is frightening, and that we do not always enter new situations with an optimistic mindset. But once we immerse ourselves in the situation and realize that many of us are feeling similar emotions, we could create a memorable and amazing time. Although this is not what I ever expected my time in university to look like, I do not regret it one bit.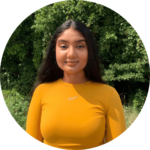 Associate Opinion Editor (Volume 48)  — Kareena is a second-year student double majoring in Criminology and Sociolegal Studies and Philosophy. Through her contributions to The Medium, Kareena hopes to encourage students to let their voices and stories be heard. When Kareena is not writing or studying, you can find her shooting hoops, watching true crime mysteries, or cooking.