Winners on and off the field

"As men, diverse men, we have privilege, and therefore an opportunity to make a difference," says head coach of the University of Toronto Mississauga men's flag football team.
For the University of Toronto Mississauga (UTM) men's flag football team, performance goes beyond the field. Head coach Armaan Hayer—a third-year criminology, law, and society student—measures the success of his team not only by their ability to play the sport they love but also according to the ways in which they serve their community.
In the pursuit of giving back to communities that need it the most, the flag football team participated in a donation drive hosted by Sociology Professor Jerry Flores on November 11, 2022. The team donated essential items, like diapers, baby food, socks, general hygiene products, and children's toys to the Native Women's Resource Centre of Toronto. In reflecting on the donation drive, the players acknowledged that they play on Indigenous land. They, therefore, strive to help the communities to whom the land belongs to.
With this mentality at heart, the team had its first game against U of T Law on October 23, 2022. No previous UTM flag football team has ever won a game in its history, and U of T Law has remained undefeated for years. Beating U of T Law was the biggest challenge of the season for UTM.
Falling by a large margin, the UTM flag football team lost, but learned that while this game was a setback for them, they could regroup, improve their play, and carry that momentum to the semifinals.
With confidence, the UTM flag football team faced U of T Engineering (Skule). Both teams were scheduled to first face each other in the regular season but could not due to poor weather conditions. The rematch took place on November 27, 2022. The UTM team waited patiently for a competitive athletic test such as this one to prove that they belong on the field and are a team to be reckoned with—and they did. UTM won 28-6, earning a spot in the finals where U of T Law, the defending champions, would be waiting for them.
UTM flag football, a team that—until this season—had never won a single game, took on U of T Law, a team that has never lost. Though U of T Law won the 2022 championship as well, UTM played their best against them. UTM has not only earned the respect of U of T Law, but of the entire league.
While they may not have come first, the fact that UTM finished in second place is a huge accomplishment. Completing that seemingly impossible task, along with their charitable work off the field, makes the members of the UTM flag football team true winners at the end of the day.
From day one, they aimed to play their hearts out, set a good example as leaders, and make a difference in their community.
"We are all from a diverse set of backgrounds, yet we are privileged enough that we can study at the greatest institution this nation offers, along with other privileges such as being cis-gender, heterosexual men," Hayer says. "Recognizing such privileges brings us humility, allows us to widen our understanding of the world, as many players mentioned when they were shocked at how expensive menstrual and baby food products are."
Hayer wants the UTM men's flag football team to be more than macho football players or hegemonic men. He wants them to rid themselves of toxic masculinity and recognize their privilege for the greater good of marginalized communities.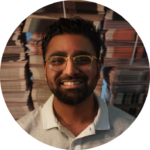 Locked on Leafs Columnist (Volume 48 & 49) — Omar is in his fourth year at UTM, working towards completing a major in CCIT and double minors in Political Science and Anthropology. Omar loves to keep up with various sports teams, his favourite being the Toronto Maple Leafs. When he isn't stressing over exams or the Leafs you can find him watching movies, looking at shoes he can only hope to afford, and trying his best to avoid parking tickets on campus.