U of T holds symposium to address inequity in Indigenous healthcare

The Indigenizing Health Symposium returns this year to raise awareness and discuss inequalities faced by Indigenous Peoples in healthcare.
In a report by Statistics Canada released on August 30, 2022, chronic conditions were more prevalent among First Nations Peoples and Métis (who live off-reserve) than their non-Indigenous counterparts. Notably, 14 per cent of First Nations and Métis Peoples were diagnosed with three or more chronic conditions, as compared to eight per cent for the non-Indigenous.
Recognizing the injustices faced by Indigenous Peoples in healthcare, the Waakebiness-Bryce Institute for Indigenous Health will be hosting the Indigenizing Health Symposium: Rethinking with Spirit on September 28 and 29, 2022. The event focuses on Indigenous health policies and will take place in-person at the Native Canadian Centre of Toronto. All students, community members, and academics are welcomed to partake in the symposium. Tickets and registration are required to attend the event.
The Medium spoke to the Network Environment for Indigenous Health Research (NEIHR) of Ontario in an email interview about Indigenous public health and the symposium.
"While most people seeking healthcare services are hoping to receive quality care and service, there continues to be a lack of mandatory training on Indigenous health, the impact of colonization to the wellbeing of Indigenous Peoples, and Indigenous perspectives into what health is," shares the NEIHR team.
The team has been finding solutions to combat such inequalities by conducting community-based research. Based on their findings, the NEIHR concludes that Indigenous Peoples often decide against seeking medical assistance due to previous experiences of discrimination.
Regarding the Indigenizing Health Symposium, the NEIHR team shares that the event will have Indigenous scholars and Elders sharing insight on "the importance of policy grounded in Indigenous knowledge and the processes of increasing accessibility of policy work to Indigenous communities."
This year's iteration of the Indigenizing Health Symposium features several Indigenous keynote speakers, including Dr. Alanaise Onischin Ferguson, a professor of counselling psychology at Simon Fraser University; Dr. Brenda M Restoule, a clinical psychologist; and Shanna Peltier, a PhD student at U of T's Ontario Institute for Studies in Education.
Restoule and Peltier will be presenting "The Indigenous Practice-Based Approaches to Navigating Therapeutic Engagement with Clients Experiencing Suicidal Distress: A Preliminary Report," which focuses on raising awareness on the unique mental health issues Indigenous Peoples face.
Other speakers for the event include Dr. Maile Tauali'I, an assistant clinical investigator for Hawaii Permanente Medical Group, Professor Rod McCormick, health researcher and clinician, Dr. Mikaela Gabriel and Dr. Sabina, post-doctorate fellows from the Waakebiness-Bryce Institute for Indigenous Health, and Luana Shirt, a Nehiyaw Ishkew writer and educator.
"We're hoping that students have an enriching, fun, and connective experience at the symposium. With a host of academics, researchers, community members, and healers, there will be much to learn for everyone—not only from the speakers' respective fields, but also from coming together to connect and network with each other as a community," says the NEIHR team.
The team encourages students to participate in the symposium, explaining that "Symposia like these are important to have our community members gather, share knowledge, exchange information, and hopefully connect in ways [that] continue [to] address and challenge health and equity gaps when it comes to the well-being of Indigenous Peoples."

The inequalities faced by Indigenous Peoples extend beyond just healthcare. The U of T community can start bridging this gap by recognizing, understanding, and discussing the hardships Indigenous Peoples encounter in contemporary society.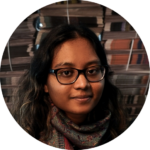 Staff Writer (Volume 49); Associate News Editor (Volume 48) — Razia Saleh is currently completing a Biology degree at UTM. She has been involved with The Medium since 2020 as a contributor and continued to write for The Medium as an Associate News Editor during Volume 48. She hopes that her experience as a writer with The Medium will help her contribute to society's efforts to provide authentic and factual journalistic media to educate her readers. She hopes to take her interest in ongoing research within the scientific field and explore ways to share it with others through this platform. In her spare time, she paints natural landscapes inspired by her travels and enjoy a few live concerts throughout the year. You can connect with her on Linkedin.