The M's Playlist — A Nocturnal November with May

Setting the mood with some classic R&B and old-school hip-hop hits this winter season.
With the winter season creeping right around the corner, the darker days and longer nights of November introduce a blanket of comfort for many, including myself. With that in mind, I decided to incorporate some older hip-hop classics with a combination of modern R&B tunes into this month's playlist. This playlist is reminiscent of songs I would blast on a ride home after a long and productive day of studying on campus. As city lights peered through the confines of tall buildings and snowflakes sprinkled down on empty roads, there was nothing like the soulful soundscapes of hip-hop and the smoothness of R&B. The hip-hop tunes I chose all include sample-based instrumentals evocative of records I would find in my older sister's collection, layered over dusty percussion, and laced with the raw emotion of the vocalists—all ideal for November.
As I began to explore my taste in music throughout high school, I quickly discovered a strong love for old-school hip-hop and '90s R&B. I remember Googling lyrics to my favourite songs and was stunned by how artists tell stories through their use of clever rhymes and sharp metaphors. Even for songs that are less meaningful, I always appreciated how artists have the unique ability to produce a mood from sounds. This November playlist attempts to replicate those moods and represents some of my favourite classics ranging from different eras with artists like LL Cool J and The Weeknd.
Listen to the playlist: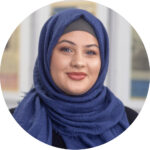 News Editor (Volume 48) | news@themedium.ca —
Going into her third year, May is currently completing a double major in Sociology and Criminology. Before becoming News Editor, May contributed The Medium for two years as a Staff Writer and Associate Features Editor. One of her biggest goals is to launch a nonprofit organization that mediates humanitarian crises around the globe and that supports children living in third-world countries. When she is not writing or studying, May spends her time working with canine coaches to provide supervised fun to four-legged furry friends at Dogtopia Applewood.