The Knotty Corner: Love, lust, and everything in between
Calling all scoundrels and scallywags, delinquents and degenerates—welcome to The Knotty Corner! My name is River Knott (see what I did there?), and I have the pleasure of acting as one of The Medium's managing editors this year.
In welcoming Volume 50 of The Medium, we're shaking things up a little, keeping it fresh, and not taking everything quite so seriously. And so, our lovely editor-in-chief has (perhaps against her better judgement) allowed me to open a sex and relationships column this year! So, here we are! Our own nifty little nook in the newspaper for all of us nincompoops and ne'er-do-wells alike!
Here's the rundown: First off, please ask me for advice—I'm not going to hide my desperation for content at this point. Really, I'm begging you. Kindly submit your questions via email to managing@themedium.ca, and include "The Knotty Corner" in the subject line so that I can more effectively fish through the burning garbage heap of spam that is my inbox.
Second, as "Knotty" as this corner may be, this will always be a safe space for you. Any questions you submit will remain completely anonymous, and people of all gender identities, backgrounds, and sexualities are more than welcome here.
I anxiously await all the shenanigans, hijinks, tips, tricks, and advice that this year will bring. So, take the leap and shoot me an email.
Until next time, stay Knotty my friends.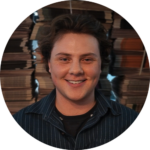 Copy Editor (Volume 49) — River is completing a specialist degree in Political Science with special interests in social justice and law. He is currently working as a copy editor at The Medium. In his spare time, River can usually be found noodling on his guitar, obsessively replaying "Red Dead Redemption 2," dipping into local thrift stores, and flipping through worn paperback fiction instead of doing his course readings.