Overcrowded buses and a reduced schedule a concern for UTM commuters

As MiWay services become unreliable, the UTMSU lobbies for action against the transit provider and the UTM administration to improve bus services for students.
As the University of Toronto Mississauga (UTM) makes a full return to in-person learning, late and overcrowded busses have become a significant difficulty for students who commute to campus.
This past week, the University of Toronto Mississauga Students' Union (UTMSU) organized a meeting with MiWay and the UTM administration to discuss the current state of public transit on campus. "MiWay is currently monitoring the situation and collecting data to figure out where the problems are happening [regarding] bus frequency [and] capacity," says the UTMSU President Maëlis Barre in an Instagram post.
Based on MiWay's 2022 Budget report, buses have frequently arrived late or early. The percentage of buses arriving on time in 2018 was 91 per cent, declining to 75 per cent for 2019, and finally reaching 68 per cent in 2020. This occurred despite dropping ridership in the final year due to the pandemic. 
Concerning shuttle buses to U of T's downtown campus or Sheridan College, Barre shares that: "The UTM administration continues to monitor the situation [by] gathering data to pinpoint the problems and solve them." The staffing shortage responsible for the lack of UTM shuttle bus drivers is part of a widespread problem affecting the entire Greater Toronto Area. A problem that has caused several transit routes, including 1C Dundas, 101 Dundas Express, and 110 University Express, to have reduced their service frequency.
The Medium spoke to several students who regularly commute on MiWay.
Habibah Badar Hussain, a third-year Life Sciences student, discussed the shortfalls of MiWay operations post-pandemic. "In my experience, I've had good service, however, I have heard of drivers allowing people to cut in lines and those who were already in line had to be left behind for the next bus. [Due to the] cutting of buses during the pandemic, what used to be a 45-minute journey became longer."
Mohammed Alaumary, a fourth-year, Biology for Health Science, and Psychology student, echoes other students' impressions that, "the service has significantly deteriorated this year." He hopes that an "increase in the number of buses" would help accommodate the surging number of commuters following UTM's return to in-person learning.
Overcrowding, cancelled rides, and late or early busses are variables students cannot effectively predict when scheduling their day. Additionally, many students have tight schedules that cannot accommodate significant deviations. To reduce transit unreliability on campus, the UTMSU encourages students to contact the UTM administration via email to lobby for their concerns.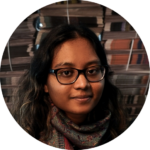 Staff Writer (Volume 49); Associate News Editor (Volume 48) — Razia Saleh is currently completing a Biology degree at UTM. She has been involved with The Medium since 2020 as a contributor and continued to write for The Medium as an Associate News Editor during Volume 48. She hopes that her experience as a writer with The Medium will help her contribute to society's efforts to provide authentic and factual journalistic media to educate her readers. She hopes to take her interest in ongoing research within the scientific field and explore ways to share it with others through this platform. In her spare time, she paints natural landscapes inspired by her travels and enjoy a few live concerts throughout the year. You can connect with her on Linkedin.