Mental Health Expressionism

Discovering how artists like Yayoi Kusama and Georgia O'Keeffe share their struggles through art.
If living life was as simple as waking up, being human, and going to bed, influential and expressionist art would not exist. Trauma is nothing to romanticize, nor is it something to overlook; its manifestation through art is not new to artists, especially not to Yayoi Kusama and Georgia O'Keeffe. Kusama's and O'Keeffe's stories of living through the deterioration of mental health may not be the same, but what unifies them is how their art took form to materialize those experiences.
Kusama seems interested in the uncountable. She suffered from a variety of hallucinations as a child—the most common being a mass of dots. To rid her mind of those hallucinations, she scribbled them down on paper, which, unbeknownst to her younger self, would be the starting point of her art career.
The eternal nature that inspired Kusama's early art carried on into her most popular pieces—the endless mirrors of "Infinity Room" and the myriad of circles in "Dots Obsession" as examples. To Kusama, her art was not just about personal expression, but rather, it was a manifestation of her mental illness on paper. Repetitive motifs of nature—like in "Mushrooms," "Flowers," and "Pumpkins"—surrounded by a mosaic of shapes were therapeutic imagery to Kusama. Even if it was not her intention, Kusama's art, especially the interactive exhibits, gives viewers insight into her life, childhood, and trauma. The patterns and vivid, clean colours are parts of Kusama that are not detachable; they are what makes her art unique to her, which is something she struggled to find during her entire career.
O'Keeffe's manifestation of her mental health in her art was different from Kusama's. Bright colours and fluid shapes occupied many of O'Keeffe's early paintings, most notably "Series 1." Depression was constant throughout her life. Yet, looking at many of her pieces from the 1910s and early '20s, viewers would never assume so.
Around 1925, splotches of dark and muted colours took over the once vibrant canvases. "New York with Moon" and "City Night" introduced admirers to a more foreboding side of O'Keeffe's art. The sharp lines of the buildings, single light sources, and deep colours are stark contrasts to O'Keeffe's early signature style.
O'Keeffe slipped into a deep depression—she feared buildings collapsing on her, which gave much-needed context to her sudden, darkened shift in artistic inspiration. Unlike Kusama, O'Keeffe's art did not seem to be her form of therapy, but perhaps an unconscious representation of what she was going through at certain points in her life.
Some artists use their medium to put their mental health beside themselves—to turn their trauma into something physical they can look at and deconstruct without added stress. Others share parts of themselves through their work whether they intend to or not. Yayoi Kusama made art her medicine, and Georgia O'Keeffe turned art into her personal autobiography.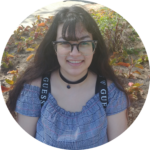 Staff Writer (Volume 48) — Sherene graduated with a double major in Communication, Culture, Information & Technology and Professional Writing. It wasn't until her third year at UTM that she realised she wanted to be a writer and thus began contributing to campus publications including The Medium. When she's not stressing over the anxieties of adult life with Buffy the Vampire Slayer playing in the background, she loves to write, draw, drink milk tea and buy more journals than she'll ever need.