Locked on Leafs: turning the tide with skill and grit
The Toronto Maple Leafs have been keeping their fans happy lately, and seem to be turning a corner this season. They've shown a considerable amount of skill, will, defensive responsibility, and toughness in the past few games. These are all areas in which the Leafs struggled at the start of the season. 
Following the Leafs' lack of an emotional or physical response when defenceman Timothy Liljegren was injured on a dirty play by Brad Marchand, Head Coach Sheldon Keefe described how he "hated" the lack of response and wants his team to be better than that. The Leafs have taken it upon themselves to change that narrative and become a team that will not be pushed around, fights back, stands up for themselves, and has an overall aura of grit. 
This new approach and physical attitude were on full display in the Leafs' recent game on November 11 against the Vancouver Canucks. The Leafs' commitment to pushing back against aggressive players was displayed when both Mark Giordano and Max Domi got into fights after their fellow teammates were hit hard by players on the Canucks. This showed the Canucks and other teams that the Leafs refuse to be pushed around like other Leafs teams of previous years. Still, this bad habit of not having a physical response to being pushed around has plagued the team for years. Fans are concerned that this passive behaviour will emerge again later in the season. 
While team toughness is addressed, William Nylander continues to shine brightly this season, continuing the Leafs' offensive surge to begin the year. Currently, Nylander is on a 16-game point streak, setting a new franchise record for most consecutive games with a point to start a season. As one of the best players in the world, Nylander and his current contract status continue to stress Leaf fans, who worry Nylander may be pricing himself out of Toronto. With the current hard cap system in the NHL, teams can only afford so many good players. With Auston Matthews, Mitch Marner, and John Tavares all locked up with massive multi-million dollar deals, where Nylander fits in is becoming a concern. The Leafs hope to keep Nylander for years to come and enjoy success with him, while staying compliant with the NHL's salary cap next year. 
Nylander's point streak and current play style have been celebrated heavily, especially as the team embarks on their Sweden Global Series road trip. To celebrate the influence of hockey around the world, the Leafs and several other NHL teams will be playing games in Sweden this year. The Leafs played their first game in Sweden against the Detroit Red Wings on November 17 and enjoyed a comeback 3-2 victory. Due to the lengthy journey from Toronto to Sweden, the Leafs seemed to be tired and sluggish early in the game. This caused the Leafs to find themselves down 2-0 after the second period. The Leafs' second lineup of William Nylander, Tyler Bertuzzi, and captain John Tavares came alive in the third period and produced a terrific game. Each player scored a goal, propelling the Leafs to victory over the Red Wings.
The Leafs' final game in Sweden took place on November 19 against the Minnesota Wild, who they hope to beat for the second time this season. Due to time zone differences, the Leafs will be playing at 8:00 a.m., a game time Leafs' fans have not experienced before. For this game, and the next few games after the Leafs come back from Sweden, the team hopes to use the momentum gained and carry it with them throughout the rest of the season. The team aims to play a skillful, physical, and strong game, as they prepare for this year's playoff run.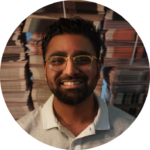 Locked on Leafs Columnist (Volume 48 & 49) — Omar is in his fourth year at UTM, working towards completing a major in CCIT and double minors in Political Science and Anthropology. Omar loves to keep up with various sports teams, his favourite being the Toronto Maple Leafs. When he isn't stressing over exams or the Leafs you can find him watching movies, looking at shoes he can only hope to afford, and trying his best to avoid parking tickets on campus.