Locked on Leafs: Defensive Depth
With training camp and the pre-season underway, several Leafs players risk getting injured as they compete to claim a spot in the lineup and prove they deserve to stay in the National Hockey League (NHL).
Toronto Maple Leafs captain John Tavares will miss the beginning of the season due to an oblique strain. Tavares' absence is a major setback for the Leafs, but the team's defense has more concerning injuries. Jake Muzzin, Timothy Liljegren, Jordie Benn and Carl Dahlstrom are all currently on the injury reserve.
Well into a preseason game, Benn and Dahlstrom were sidelined with injuries, leaving the team with only four defensemen instead of the usual six. Consequently, Alex Kerfoot and Calle Järnkrok, two forwards, dropped back to defence to cover their absences.
Kerfoot and Järnkrok are considered Swiss army knife players due to their versatility—but only when playing forward. As it turns out, the two players seamlessly transitioned into their new roles and brought the Leafs a 3-0 victory against the Montréal Canadiens in the preseason.
This win proves the strengths of the Leafs playing system, their defensive strategies, and their ability to adapt to changing game circumstances. The injuries caused urgent defensive depth issues, but they were resolved quickly.
In other defensive news, the long-awaited promising young defenseman, Rasmus Sandin, has re-signed with the Leafs on a two-year USD $2.8 million dollar contract extension. Sandin is an extremely important piece of the Leafs defensive future. Having him back in time for the beginning of the season is key for the success of both Sandin and the team.
Another positive development for the Leafs is their goaltending. While most fans were pessimistic of Matt Murray and Ilya Samsonov, both have played well to start the preseason. Both goaltenders have faced difficult situations. They nonetheless proved that they are both committed to the team's success.
Looking towards the Leafs' future, one question remains: Which players will be traded away in order to shed some salary expenses? The Leafs are approximately $2.9 million over their salary cap right now.
The salary cap has always been a complicated issue in the NHL, especially when it comes to the Leafs. Few people in the hockey world thought it was possible to keep together a core group of players as good as Auston Matthews, Mitch Marner, William Nylander, and Tavares while maintaining a well-balanced lineup.
Leafs General Manager Kyle Dubas has done a remarkable job every season of providing those core players with a cheap and effective supporting cast of players including Michael Bunting, Mark Giordano and David Kämpf.
Not only does this add value to the team, but it also makes paying premium prices for premium players that much easier. With the current talent on the Leafs roster, the team has reason to hope for playoff success this upcoming spring.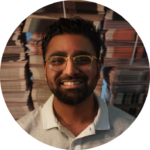 Locked on Leafs Columnist (Volume 48 & 49) — Omar is in his fourth year at UTM, working towards completing a major in CCIT and double minors in Political Science and Anthropology. Omar loves to keep up with various sports teams, his favourite being the Toronto Maple Leafs. When he isn't stressing over exams or the Leafs you can find him watching movies, looking at shoes he can only hope to afford, and trying his best to avoid parking tickets on campus.