Locked On Leafs: Coach's Choices
As they gear up for the playoffs, the Leafs must stay sharp and maintain their team chemistry, especially with their biggest trade acquisition, Ryan O'Reilly, being out with a broken finger. Head coach Sheldon Keefe aims to make O'Reilly's transition back as seamless as possible by juggling every game's lineup to allow each player an experience in different roles and situations.
Keefe has already dressed up 11 forwards and seven defensemen. In a typical hockey game, each team has 12 forwards and seven defensemen. Going 11-7 means forwards play different roles while defencemen play more focused minutes. If a defenceman is better offensively, in the 11-7 rotation, they will spend most of their ice time in the offensive zone.
This strategy helped the Leafs become a more dependable team in terms of defence—an area of their game that needs improvement based on the matchups they might face in the playoffs. Some forwards, however, haven't found roles in the 11-7 format. Michael Bunting, for example, the team's top left-winger, has struggled with consistency in the past few games. He has had a season of ups and downs so hopefully he will find his game again before the playoffs start.
This season, the Leafs are poised to play the Tampa Bay Lightning once again, who have gone to the Stanley Cup final in each of the past three seasons, winning the cup in back-to-back years in 2020 and 2021. Tampa often finds a new gear in the playoffs. No team has played more hockey than Tampa, and no goalie has played more hockey than Tampa Bay's goaltender, Andrei Vasilevskiy. The team must be fatigued at some level and suffering from the wear and tear of playing so many games.
Tampa has also seen better days defensively and has had a worse season this year than last. In the 2022 playoffs, the Leafs took the Lightning to a winner-take-all game seven, in a very tight series. This year, it seems as though the Leafs have improved, and the Lightning have become worse.
While it is always hard to bet against the modern-day dynasty of the Tampa Bay Lightning, and perhaps even harder to bet on the Leafs to win a first-round series against any opponent, logically, the Leafs should beat the Lightning. But when has anything in Leaf-land happened based on logic?
It is logically impossible for a team to go seven straight years without winning in the first round, and to lose every playoff series since 2004. What's even more unfathomable is going without a Stanley Cup win since 1967. Perhaps this will be the year when the Leafs beat the odds and win a playoff series.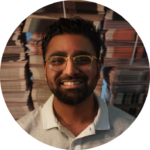 Locked on Leafs Columnist (Volume 48 & 49) — Omar is in his fourth year at UTM, working towards completing a major in CCIT and double minors in Political Science and Anthropology. Omar loves to keep up with various sports teams, his favourite being the Toronto Maple Leafs. When he isn't stressing over exams or the Leafs you can find him watching movies, looking at shoes he can only hope to afford, and trying his best to avoid parking tickets on campus.