Four books to warm your frigid heart this Valentine's Day

From microwave cookery to canned frog's legs, these books have got something for everyone, no matter how lonely they are.
Listen, let's just keep it real! Not all of us have a date this coming Valentine's Day. I mean, I sure do—but I'm naturally very sexy and charismatic (and you probably aren't).
Alas, never fear! While a good book certainly won't keep you warm at night, reading is still a great activity for singles who, frankly, have lost all hope in finding "the one." Instead, find solace this Valentine's Day tucked away with a novel in your dreary dorm rooms, all alone, so very alone…
Meatloaf in a mug! Microwaved liver! This book is an absolute goldmine of recipes to warm your cold, cold heart during this dark, frigid February. Luckily, author Mary T. Smith predicted your dismal dorm room solitude back when this masterpiece was written in 1981, as she has provided us with nearly 300 flavour-packed recipes, cooked from the comfort of your very own microwave! A boiled egg? Sure! Chocolate pudding? Why not? A Salisbury steak? Toss it in the microwave for three minutes on high! If you enjoy mushy textures and dull flavours, look no further than Microwave Cooking for One. If you have too much self-respect, however, this makes a great gift for those lonesome singles in your life! Be sure to send anyone who has recently gone through a breakup this book to help them feel more confident in their newfound independence.
The Kama Sutra is an ancient text detailing hundreds of sexual positions for couples to try. The Carma Sutra is a modern twist on this archaic romp, which considers countless solutions to the cramped, uncomfortable nature of having sex in a car. Whether you're working with a Mini Coop or a Tahoe, this book has something for everyone, as long as you're turned on by sore joints and suffocating claustrophobia. However, from personal experience, I will note that almost all of these positions do not work on a moped or any other variation of street-legal electric scooter.
While our furry friends can help keep us warm during the winter, those of us who are cat owners tend to miss out on all that great exercise that dog owners get going on long walks during the winter. Don't worry! This book has everything the cat owner needs to know to sculpt some sweet abs, sexy delts, and powerful glutes. Only one piece of equipment is needed, and that's your very own kitty cat! Here's a little sneak peek at one of the included workouts:
3 sets of 8-12 "kitty cat curls"
3 sets of 6-8 "meow meow muscle ups"
3 sets of 8-12 "feline front squats"
Finish with 3 sets of "cuddles" to boost morale and eliminate muscle soreness.
Frog Raising for Pleasure and Profit
Listen up, singles! Your mom told you, your therapist told you, and now I'm telling you—you need a hobby. Maybe you'd finally get a date if you had anything interesting to say!
Do you love water, but stop shy of watersports? I have just the book for you. For aquatic thrills with no frills, look no further than Frog Raising for Pleasure and Profit by Dr. Albert Broel. This mid-century classic is perfect for anyone lacking a personality or any special interests. Broel was the founder and CEO of the American Frog Canning Company, so he definitely knew a thing or two about frog rearing. Learn all about keeping frogs as pets, as well as canning and selling their legs for profit. Dr. Broel promises a hearty five-dollar sale price per dozen frog legs through following his techniques. Pick up a copy of Frog Raising for Pleasure and Profit at the UTM bookstore to start your new career in frog canning today!
All jokes aside, Valentine's Day is about celebrating all kinds of love, including the love we have for ourselves, our friends, and our families. So, even if you don't have a partner to celebrate with, a moped to experiment on, frog's legs to sell for profit, a kitty cat to workout with, or a microwave to cook a steak in, remember to treat yourself with kindness this Valentine's Day. Be open minded, be compassionate, tell somebody how much they mean to you, and maybe even pick up a book. Happy Valentine's Day.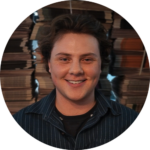 Copy Editor (Volume 49) — River is completing a specialist degree in Political Science with special interests in social justice and law. He is currently working as a copy editor at The Medium. In his spare time, River can usually be found noodling on his guitar, obsessively replaying "Red Dead Redemption 2," dipping into local thrift stores, and flipping through worn paperback fiction instead of doing his course readings.