Editorial: September doesn't have to suck
September, September, September: the end of summer and the beginning of classes. Not exactly a sparkling reputation.
It's easy to pass unfair judgment on a month like September but listen up! Let us tell you a couple of fun facts about 'tember that are bound to change your mind. First off, of the 10 most common birthdays, nine are in September! Guess that's due to folks getting especially cozy around the holiday season—if you catch our drift.
September is also home to many interesting national and international holidays! You've got World Coconut Day on September 2, International Chocolate Day on September 13, and even World Contraception Day on September 26 (although maybe we ought to move that on over to December or January, lest we continue to be overwrought with Virgos and Libras). We've also got World Rabies Day closing out the month on September 28, although we're not exactly sure what that celebration might look like. Seems dangerous. Who decides on all these "holidays?" Is there some kind of committee? We just want to talk.
But in all seriousness, September has much more to offer than coconuts, chocolate, and rabies.
September 5 is International Day of Charity! So, find a cause that means something to you and get involved. September 10 is World Suicide Prevention Day, so make sure you take the time to take care of yourself and check in on a friend. World Environmental Health Day is on September 26, so walk to class, take public transit, and maybe even invest in a compost bin.
If you're feeling down about the cooler weather, earlier night falls, and changing leaves, just try to remember that every single day has meaning and comes with its own little unique features to enjoy. So, make the most of it!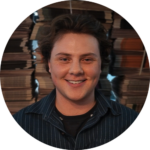 Copy Editor (Volume 49) — River is completing a specialist degree in Political Science with special interests in social justice and law. He is currently working as a copy editor at The Medium. In his spare time, River can usually be found noodling on his guitar, obsessively replaying "Red Dead Redemption 2," dipping into local thrift stores, and flipping through worn paperback fiction instead of doing his course readings.