Class of 2023 manifests their dreams

From going to UPenn's Law school to moving to Greece and finding love, three graduating students share their journeys at UTM and plans for the future.
It's time for the Class of 2023 to graduate—finally some well-deserved freedom after years of hard work. As students get ready to leave the University of Toronto Mississauga (UTM), The Medium sat down with three soon-to-be U of T graduates to talk about their exciting bright futures.
Aye Tryed, fifth-year, philosophy
Aye Tryed reminisces over class discussions about completely fictitious and impractical theories. She recalls bonding with her classmates over their "shared love for these abstract concepts, which we will definitely use religiously throughout everyday life as baristas and service workers." However, Tryed acknowledges that when people hear that she's majoring in philosophy, they immediately respond: "Oh wow! That's so interesting! What job does that get you?"
Admittedly, Tryed currently has no foreseeable career plans. "Unfortunately, I haven't had the best of luck applying for jobs. Who would have thought so few employers would be looking for philosophy majors," she remarks. That said, Tryed is looking forward to unemployment. She views it as some "well-deserved time-off" after studying assiduously for her 2.95 cGPA.
Luckily, these rejections revealed her true dream: to be a philosopher. She now plans on travelling to Greece, where some of her favourite philosophers, like Plato and Aristotle, are from. She hopes to visit Socrates' Academy in Athens.
Tryed is passionate about Plato's myth of the metals—the idea that individuals are infused with gold, silver, and bronze based on their intellectual abilities, which then determines their societal role. She hopes to spread awareness on the matter as a philosopher someday—she is confident that the myth is heavily applicable to modern life. "For example, I'm clearly infused with gold because I got an 83 on a paper that one time, which makes me inherently better than most people," confesses Tryed.
Although she knows that living up to these philosophers' standards will be hard, Tryed remains hopeful that she'll succeed if she tries hard enough.
Saim Ol, ninth-year, commerce
Finally rounding up his ninth year at UTM, Saim Ol is academically more than ready to be done. "It feels like a lifetime has passed since I joined UTM," shares Ol. But having spent almost a decade at UTM, the idea of leaving triggers sadness in Ol. "I'll never get tired of the same old routine and I wish I could stay longer," he admits.
What Ol loves most about UTM is the abundance of opportunities to find love. Each semester, new students join the campus. "So, there are always new people coming in—there are always new opportunities to mingle," he explains.
Each year, Ol would enroll in at least one first-year course "to get a feel for the market," he says. "I think that first-year classes are the best places to find someone, as they're more exciting and open to trying new things," he explains. His favourite classes tend to be those from the Department of English and Drama, as he finds these women to be more to his taste. "They're usually more naïve and willing to please—so you can get them to fit your needs and secret desires," he elaborates. "Besides, they're younger and fresher."
Now graduating, Ol is finally ready to settle down. "I honestly never thought this would happen—it caught me by such surprise," he shares. He thanks his management class presentations for giving him the confidence to speak to women and express his needs. "[These classes] really gave me the courage to bring up some of my desires to my partner—we're now happily in an open relationship and I wouldn't have it any other way," Ol explains. "She won't be dating other guys alone, but she's totally on board with me doing so."
As for his future plans, Ol hopes to explore new places where both he and his girlfriend might find a third partner.
Dadee Smonie, fourth-year, political science
Over the last four years, Dadee Smonie spent most of his days immersed in his outdated politics textbooks. Smonie confesses that although he found his classes deeply simulating, he thinks current politicians are overlooked in the curriculum, despite being more inspirational than their predecessors. "Our recent political figures have been the best 'role models,'" explains Smonie. "They pioneered Twitter fights over owning the biggest and strongest button—something we should all encourage."
For Smonie, these figures inspired more than just his political views—they influenced his lifestyle. First bonding over his love of Diet Coke and McDonald's with some, he now also follows their skincare routines. "I've also been inspired by certain politicians' skincare routines; they've brought an orange glow back to my complexion," explains Smonie.
One of Smonie's fondest memories was the thrill of leaving all his tutorials halfway through every semester. He explains that as an avid gambler, he enjoyed risking his grades too. "The lack of guidance really pushed me to excel," he says, graduating with a 2.0 cGPA. "At the end of the day, I knew that my grades wouldn't matter, and my parents would be proud of me—they know that I'll enjoy a successful career in the future."
Smonie plans on attending the University of Pennsylvania Carey Law School. "I chose UPenn because I thought it would bring me closer to my role models," he continues, "but I had other options available." His parents are both renowned lawyers in the United States, with his mother representing the country's previous president. The acceptance, however, came with a slight shock which was quickly overshadowed by pride. "I was somewhat worried that I would not get in, as I forgot to take the LSATs. However, upon reflection, with my status, it would have been absurd not to let me in," he explains.
With his law degree, as Smonie hopes to "fulfill my political role models' legacy and facilitate a button-fighting Research Opportunity Program at UTM—as a strong and independent adult, I'm certain I can achieve these goals."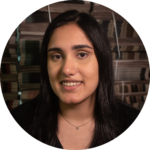 Features Editor (Volume 49) | features@themedium.ca —Maneka is a third year student completing a specialization in Philosophy with a minor in political science. Previously, she served as one of The Medium's Staff Writer and Associate Features Editor. As this year's Features Editor, Maneka hopes to raise awareness, shed light over current issues, and highlight student voices and organizations. When Maneka is not studying, writing, or working, you'll probably find her binging on, or rather re-watching her favorite shows, listening to music, thinking about her dog, or likely taking a nap.