Associate Professor Mairi Cowan on her book The Possession of Barbe Hallay

A look into the past led UTM Professor Mairi Cowan into a "precarious" world of demons and witches.
On October 26, 2023, the University of Toronto Mississauga's (UTM) ninth annual Celebration of Books took place. It was co-hosted by the UTM Library to honour recent scholarly monographs from its graduates and faculty. The Medium got the chance to speak to UTM History Associate Professor Mairi Cowan about her book titled The Possession of Barbe Hallay: Diabolical Arts and Daily Life in Early Canada, which was showcased at the event. The book is a study in the social and religious history of New France. 
The Medium: What can you tell us about The Possession of Barbe Hallay: Diabolical Arts and Daily Life in Early Canada?
Mairi Cowan: Thank you for your interest in my research! This book is very suitable for Spooky Season, I think. It's a microhistory of bewitchment and demonic possession in seventeenth-century New France. "Microhistory" is a historical approach that examines something on a small scale to address big questions. It looks up close at a specific event or person or place, with great attention to detail, and considers what the evidence about this one thing can tell us about the wider historical context. In my book, the object of study is a demonic infestation caused by a witch. Well, to be more precise, the object of study is what people in New France during the seventeenth century believed was a demonic infestation caused by a witch. Some of the inhabitants in Québec started to report strange signs and manifestations. Barbe Hallay, a teenaged domestic servant, said she saw frightening spectres, and soon she acted as if she were being possessed by a malevolent spirit. The Possession of Barbe Hallay is about what happened to Barbe Hallay, why people thought she was bewitched, how this seemingly small case is connected to larger themes in history, and what we as historians can really know about the past.
TM: What does the practice of demonology and witchcraft in this Québec settlement where Hallay lived reveal about the everyday experiences and general anxieties in New France?
MC: Belief in witchcraft was quite normal for settlers in early Canada, so was the fear of demonic forces. And we can learn a lot about people's experiences and anxieties through what they were saying about witches and demons. For my book, I analyzed how people in the seventeenth century tried to diagnose what was wrong (including their attempts to discern whether they were facing a real supernatural possession rather than illness or fraud), why a local miller was accused of being a witch, and which treatments succeeded in ending the demonic torments. A lot of the book is about the everyday lives of ordinary people who do not normally leave a mark on the historical record. I talk about where they travelled and what they ate and how they practised medicine and why they were confused about the coldness of Canadian winters. But the book is also about larger historical forces, too. In trying to understand what Barbe Hallay and those around her thought was happening, I also needed to learn about colonialism and imperialism, early modern Catholicism and ancient regime French society, even environmental history and the history of astronomy. Looking at both everyday lives and larger themes helped me see how New France was connected to wider developments in North America and Europe. The colony was shaped by forces beyond the colonists' control, and often beyond their understanding. These colonists were anxious about a lot of things. What came through very clearly to me was that New France was precarious as a colonial project, and the colonists themselves knew it.
TM: What is the significance to you, personally, of having this book showcased at the UTM Annual Celebration Of Books?
MC: A scholarly book takes a lot of time and energy to create. I first came across the story of Barbe Hallay's possession about ten years ago, and since then I've worked with archivists, librarians, historians, and students to understand the world I encountered. I'm very pleased that UTM is celebrating research in its community.
TM: Do you have any final comments you'd like to share?
MC: About the topics discussed in my book, I guess I'd like to add here a note of encouragement to follow your curiosity in your research. This project started when I was on vacation in Québec City and reading the letters of a nun who had lived there hundreds of years ago. I became curious to know more about her account of a mysterious bewitchment, and this curiosity led me in a lot of different directions. In following my curiosity, I certainly learned more than I could have expected when choosing my vacation reading, and now I hope that other people will enjoy reading about my findings.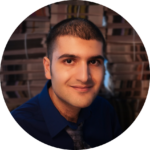 Staff Writer (Volume 49) — Yusuf is in his third-year completing a major in English and double minor in Cinema Studies and History Of Religions. Following an anticipated return to campus he sought to get involved and his ambition led him to join The Medium. In addition to developing his writing skills further he has found his experience contributing insightful as he's learned about other fields on campus he wouldn't know about otherwise. When he's not studying or writing he enjoys listening to music and browsing the internet. You can connect with Yusuf on LinkedIn.