Ontario announces end of vaccine passport

After announcing the removal of vaccine mandates, Premier Doug Ford also hopes for the end of mask restrictions by the end of March.
On February 14, Ontario Premier Doug Ford announced the possible end of the vaccine passport, giving citizens the freedom to enter enclosed spaces without disclosing their vaccination status. On March 1, Ontario confirmed the removal of vaccine passports. At this time, masks are still required.
Currently, Covid-19 reports reveal a decrease in hospitalization rates across the province. Cases declined from 10,000 in the beginning of January to less than 2,000 in February. Though individuals are still being diagnosed with the virus, the viral infection has lessened to a degree similar to the common flu, enabling symptoms and cases to be treated at home.
It has been reported that 81 per cent of Ontario residents are vaccinated with two doses, and 47.156 per cent already have their third booster shot. With most of Ontario's population vaccinated, Ford is leaning towards lifting not only the vaccine passports, but mask mandates as well.
Business owners are hoping this will bring stability to their businesses. Dustin Lashambe, a business owner, spoke to CTV News about his relief regarding the removal of the vaccine passport—a sentiment many business owners share.
"The vaccine restrictions being lifted in regard to people being checked at the door, it's going to make our lives easier," states Lashambe. Ontario opening restaurants at full capacity will benefit businesses bringing them more opportunities and customers.
Students in the Peel Education system can see a drastic change where they potentially won't be required to even wear a mask to school. Ontario Chief Medical Officer of Health, Dr. Kieran Moore, mentions in his address that they will end mask mandates in schools and "public settings at the same time."
He continues to state, "We are trying to learn practices globally and provincially and as the risk decreases in Ontario make recommendations to the government with that in mind."
No changes to the mask rules were announced for U of T and will continue until further notice. The Medium spoke with two University of Toronto Mississauga (UTM) students about how they feel toward the new regulations.
A second-year student choosing to remain anonymous discusses how this change can affect his studies. "I believe in the government and the scientific community. If they think that it is safe and suggest that vaccination passports are not necessary, then I will abide by it."
While acknowledging the importance of being free of restrictions, he is also worried about his health and the safety of others. "It will be more convenient for me but a little scary because people around may not be vaccinated especially in restaurants where we have to remove our masks and are exposed."
Second-year Loridee De Villa in the Biology program demonstrates similar concerns about her safety.
"In general, it doesn't feel like the safest option [and] on campus, there are so many students that it's hard to socialize. I'd feel safer knowing my peers are vaccinated and I think those that have underlying illnesses would feel the same."
Though some students feel unsure of this change, health officials say that with the decrease of Covid-19 cases and the number of patients being admitted to the hospital, the possible route to a new normal may soon come into play.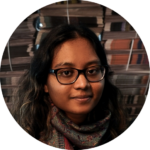 Staff Writer (Volume 49); Associate News Editor (Volume 48) — Razia Saleh is currently completing a Biology degree at UTM. She has been involved with The Medium since 2020 as a contributor and continued to write for The Medium as an Associate News Editor during Volume 48. She hopes that her experience as a writer with The Medium will help her contribute to society's efforts to provide authentic and factual journalistic media to educate her readers. She hopes to take her interest in ongoing research within the scientific field and explore ways to share it with others through this platform. In her spare time, she paints natural landscapes inspired by her travels and enjoy a few live concerts throughout the year. You can connect with her on Linkedin.